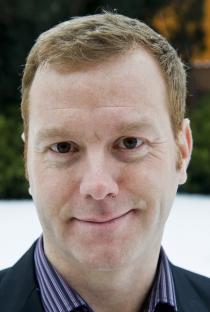 Christian Damsgaard
Christian has sung with Ars Nova Copenhagen since January 2009. In addition to this, he performs as a soloist in opera and oratorio and in productions of his own doing art songs and chamber music.
As an ensemble singer he regularly sing with the Vocaal LAB Nederland and with various professional chamber choirs in Amsterdam.
Apart from singing Christian also writes articles for the Danish music press and cultivates an interest in asian cooking and home made layer cakes.
Participated at following concerts with Ars Nova
| | | |
| --- | --- | --- |
| Musica Sacra, Nürnberg | Sunday den 6. June 2010 kl. 20:00 | Nürnberg |
| Nederlands Gregoriaans Festival 2010 | Saturday den 29. May 2010 kl. 20:00 | Luciakerk |
| Cantus | Sunday den 16. May 2010 kl. 16:00 | Garnisons Kirke, København |
| Cantus | Saturday den 15. May 2010 kl. 15:30 | Sortebrødre Kirke, Viborg |
| Arvo Pärt & English Tudor Music | Sunday den 2. May 2010 kl. 15:00 | Fuglsang Herregård |
| Arvo Pärt & English Tudor Music | Sunday den 21. March 2010 kl. 20:00 | St. Michaels, Budapest |
| Arvo Pärt & English Tudor Music | Saturday den 20. March 2010 kl. 16:00 | Jægerspris Slot |
| Matthäus-Passion | Thursday den 18. March 2010 kl. 20:00 | Garnisons Kirke, København |
| Bachs Bibliotek | Saturday den 27. February 2010 kl. 16:00 | Hørning Kirke |
| Bachs Library | Thursday den 25. February 2010 kl. 20:00 | De Singel |
| Bach's Library | Wednesday den 24. February 2010 kl. 20:15 | De Oosterpoort |
| Taverner & Tudor Music | Tuesday den 23. February 2010 kl. 20:15 | Muziekgebouw aan 'Tij, Amsterdam |
| Bach's Library | Monday den 22. February 2010 kl. 20:00 | Dronningesalen |
| Beginning | Wednesday den 3. February 2010 kl. 20:00 | Garnisons Kirke, København |
| The Apple Tree | Tuesday den 22. December 2009 kl. 20:00 | Podium Twente, Enschede, Holland |
| The Apple Tree | Sunday den 20. December 2009 kl. 16:00 | Garnisons Kirke, København |
| The Apple Tree | Friday den 11. December 2009 kl. 19:30 | Vestkirken |
| The Apple Tree | Thursday den 10. December 2009 kl. 19:30 | Hans Tavsens Kirke |
| 9 lessons and carols | Wednesday den 9. December 2009 kl. 19:00 | Hunseby Kirke |
| Requiem | Sunday den 1. November 2009 kl. 16:00 | Skanderup Kirke |
| Requiem | Sunday den 25. October 2009 kl. 16:00 | Sorø Klosterkirke |
| The Natural World | Sunday den 11. October 2009 kl. 16:00 | Garnisons Kirke, København |
| Islands | Sunday den 13. September 2009 kl. 16:00 | Garnisons Kirke, København |
| Islands | Saturday den 12. September 2009 kl. 16:00 | |
| Henry Purcell (1659-1695): The Voice of the Turtle | Thursday den 3. September 2009 kl. 19:30 | |