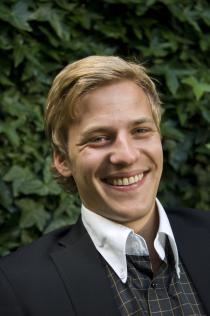 Josef Hamber
Josef Hamber, Tenor. Born in Stockholm 1982.
Educated at DKDM, he received his diploma in 2009. In Ars Nova Copenhagen since 2007.
Josef has sung roles at Vadstena Akademien, Fäviken opera and at Drottningholms slottsteater. He is often a soloist in works by Händel, Bach, Telemann, Mozart, Weber and Dvorak. He has sung at Liedkompagniet with the pianist Christian Westergaard. In 2008 he received the Tonny Landy and Tove Hyldgaard award for young promising singers. Josef is also an assistent in the Danish Radio Choir and in the Royal Danish Opera Choir.
Participated at following concerts with Ars Nova
| | | |
| --- | --- | --- |
| Nine lessons and carols | Sunday den 21. December 2014 kl. 19:00 | Risbjerg Kirke, Hvidovre |
| Nine lessons and carols | Sunday den 21. December 2014 kl. 15:00 | Reerslev Kirke, Hedehusene |
| Nine lessons and carols | Thursday den 18. December 2014 kl. 19:30 | Frihavnskirken |
| Nine lessons and carols | Wednesday den 17. December 2014 kl. 20:00 | Garnisons Kirke, København |
| Brother Fire, Sister Water | Sunday den 21. September 2014 kl. 20:00 | Church of our Lady before Tyn, Prag |
| Recording: Pocket Oratorium | Wednesday den 22. January 2014 kl. 16:00 | |
| Nine lessons and Carols | Sunday den 8. December 2013 kl. 16:00 | Garnisons Kirke, København |
| Nine lessons and Carols | Saturday den 7. December 2013 kl. 18:00 | Allhelgona Kyrkan, Lund |
| Nine lessons and Carols | Friday den 6. December 2013 kl. 20:00 | Hans Tausens Kirke |
| A little Night Music | Tuesday den 7. September 2010 kl. 20:00 | Garnisons Kirke, København |
| Mostly Mozart, late night | Saturday den 14. August 2010 kl. 22:30 | Stanlay H. Kaplan Penthouse, NYC |
| Mostly Mozart | Friday den 13. August 2010 kl. 20:00 | Alice Tully Hall, NYC |
| Arvo Pärt & English Tudor Music | Thursday den 8. July 2010 kl. 20:00 | Basilika St. Kastor, Koblenz |
| Arvo Pärt & English Tudor Music | Tuesday den 6. July 2010 kl. 20:00 | Ribe Domkirke |
| Arvo Pärt & English Tudor Music | Monday den 5. July 2010 kl. 20:00 | Gjethuset, Frederiksværk |
| Musica Sacra, Nürnberg | Sunday den 6. June 2010 kl. 20:00 | Nürnberg |
| Nederlands Gregoriaans Festival 2010 | Saturday den 29. May 2010 kl. 20:00 | Luciakerk |
| Cantus | Sunday den 16. May 2010 kl. 16:00 | Garnisons Kirke, København |
| Cantus | Saturday den 15. May 2010 kl. 15:30 | Sortebrødre Kirke, Viborg |
| Arvo Pärt & English Tudor Music | Sunday den 2. May 2010 kl. 15:00 | Fuglsang Herregård |
| Arvo Pärt & English Tudor Music | Sunday den 21. March 2010 kl. 20:00 | St. Michaels, Budapest |
| Arvo Pärt & English Tudor Music | Saturday den 20. March 2010 kl. 16:00 | Jægerspris Slot |
| Matthäus-Passion | Thursday den 18. March 2010 kl. 20:00 | Garnisons Kirke, København |
| Bachs Bibliotek | Saturday den 27. February 2010 kl. 16:00 | Hørning Kirke |
| Bachs Library | Thursday den 25. February 2010 kl. 20:00 | De Singel |