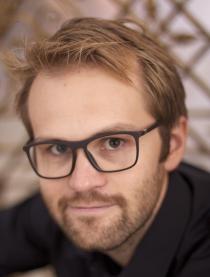 Kristian Krogsøe
Kristian Krogsøe is the cathedral organist at Aarhus Cathedral and a teacher at the Jutland Conservatory of Music.
He graduated from DJM with a church music diploma in 2006 as a student of Prof. Ulrik Spang-Hanssen and Christian Præstholm. In the spring of 2009, with the grade "summa cum laude", he completed 3 years of studies in the soloist class at the Universität der Künste in Berlin as a student of Prof. Leo van Doeselaar and Erwin Wiersinga. In addition, studies in improvisation by Dirk Elsemann.
In 2007 he had his official debut - also in Berlin Cathedral - and has since given concerts in i.a. England, Switzerland, Israel, Scotland, Ireland and the Netherlands - and in Berlin as an organ soloist at the Berlin State Opera in Busoni's "Doctor Faust" with the Berlin State Chapel under the direction of Daniel Barenboim.
Kristian Krogsøe has participated in masterclasses with leading organists (including Olivier Latry, Dame Gillian Weir, John Scott, Michel Bouvard, Guy Bovet, Lorenzo Ghielmi, Jan Willem Jansen, David Sanger and Naji Hakim) in England, France, Germany, Italy, the Netherlands and Slovenia. And he is the recipient of scholarships and prizes from i.a. The Association of Piano and Organ Builders in Denmark, Fondation Idella, Danmarks Nationalbank's anniversary fund, Gramexmidlerne, Elli and Peter Ove Christensen's fund and Dir. J.P. Lund and his wife Vilhelmine Bugge's legacy.