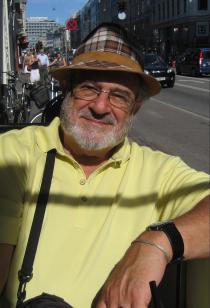 Tamás Vetö
Tamas Vetö was born in Budapest in 1935. He studied at the Franz Liszt Academy—as both a pianist and conductor—and later with Nadia Boulanger in Paris. In 1957, Tamas Vetö moved to Denmark and the following year began his musical career, establishing the pioneering vocal ensemble Cantilena and conducting the orchestra of the Royal Danish Opera.
Since 1961, Tamas Vetö has also conducted the Danish National Radio Choir and for eighteen years was instructor of the Royal Opera Choir. For four successful years, he conducted the University Choir Lille, winning several prizes in international choral competitions.
From 1982 to 1984, Tamas Vetö was the principal conductor of the National Theatre at Mannheim in Germany and from 1984 to 1987 he was chief conductor of the Danish Odense Symphony Orchestra. His close connection with this orchestra, as well as with the Royal Opera Choir, continued until 1989. During this time Vetö conducted numerous concerts with all the Danish orchestras, including the Danish National Radio Orchestra, and with most other Scandinavian orchestras.
Tamas Veto has an extensive repertoire, especially in contemporary music, and is a noted interpreter of newer works. In this capacity he conducted the first European performance of Witold Lutosławski's Third Symphony.
Opera productions have included Wagner's Tristan und Isolde at the Marseilles Opera in 1992 and Drot og Marsk by Heise at the Royal Danish Theatre in 1993. At the Danish National Opera he conducted Der Ring des Nibelungen in 1996. He has also conducted Stravinsky's The Rake's Progress at the same opera house.
For Marco Polo, Tamas Veto has conducted the Tivoli Symphony Orchestra in Volume 5 of Lumbye's complete orchestral works. For Da Capo he has made acclaimed recordings of works by Norgard, Langgaard, Jorgensen and Norholm.