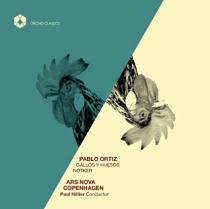 Pablo Ortiz - Gallos y Huesos I Notker
Features Gallos y Huesos and Notker by the contemporary Argentinean composer Pablo Ortiz, who has collaborated with Paul Hillier over many years.
The recording is an unusual example of Scandinavian/South American collaboration and represents two worlds, the old and the new, Europe and America.
Gallos y Huesos sets to music poems by one of the best contemporary Argentinean writers, Sergio Chejfec. Translated as Roosters and Bones, the poems explore the morphology of a rooster – the bird, its flapping wings, its presence in a meal, the gnawing of its bones and the bones in a kitchen sink. Ortiz's piece is scored for the rare combination of five female voices, a baritone and harp.
Notker presents the words of the ninth-century Benedictine monk and scholar Notker also known as "the Stammerer", introduced to Pablo Ortiz by Paul Hillier. Though written a thousand years ago, Ortiz was struck by their beauty and relevance to the modern world.