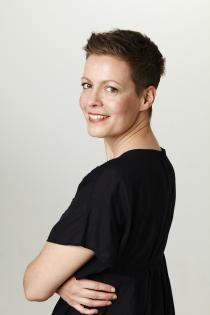 Rebecca Forsberg Svendsen
The Swedish-born singer Rebecca Forsberg Svendsen has graduated from the Royal Danish Academy of Music in Copenhagen. Rebecca works as ensemble singer at the highest level as well as a soloist in many different contexts.
Rebecca has been a member of Ars Nova Copenhagen since August 2015.
Rebecca sings Baroque music and cooperate with the eleading baroque ensembles and orchestras of Denmark and Sweden.
She has premiered numerous new contemporary works by living composers, including opera EZRA at Odinteatret.
She has studied scenic performance in Istanbul at the choreographer Hazal Selcuk.
Participated at following concerts with Ars Nova
| | | |
| --- | --- | --- |
| CANCELLED The Rain At Sea, Frederiksværk | Wednesday den 15. July 2020 kl. 17:00 | Gjethuset, Frederiksværk |
| CANCELLED The Rain At Sea, KLANG Festival | Monday den 1. June 2020 kl. 19:30 | Koncertkirken |
| CANCELLED The Rain At Sea, Humlebæk | Monday den 1. June 2020 kl. 15:00 | |
| CANCELLED The Rain At Sea, Christiansfeld | Thursday den 7. May 2020 kl. 16:00 | Brødremenighedens Kirke, Christiansfeld |
| CANCELLED The Rain At Sea, Farum | Friday den 24. April 2020 kl. 19:30 | Stavnsholt kirke |
| The Christmas Story | Sunday den 11. December 2016 kl. 16:00 | Garnisons Kirke, København |
| The Christmas Story | Saturday den 10. December 2016 kl. 15:00 | Stouby Kirke |
| The Christmas Story | Friday den 9. December 2016 kl. 20:00 | Nyborg Vor Frue Kirke |
| The Nordic Choir Expedition - Tenso Days 2016 | Ars Nova Copenhagen | Tuesday den 25. October 2016 kl. 17:30 | Trinitatis Kirke |
| Culture Night Copenhagen 3 | Friday den 14. October 2016 kl. 21:00 | Marmorkirken (Frederiks Kirke) |
| Culture Night Copenhagen 2 | Friday den 14. October 2016 kl. 20:15 | Marmorkirken (Frederiks Kirke) |
| Culture Night Copenhagen 1 | Friday den 14. October 2016 kl. 19:30 | Marmorkirken (Frederiks Kirke) |
| Crossing Borders | Sunday den 4. September 2016 kl. 16:00 | Garnisons Kirke, København |
| Crossing Borders | Saturday den 3. September 2016 kl. 16:00 | Billund Kirke |
| Crossing Borders, Föhr | Friday den 2. September 2016 kl. 20:00 | Föhr, Friesendom Nieblum |
| Crossing Borders | Thursday den 1. September 2016 kl. 19:30 | Vor Frelser Kirke, Esbjerg |
| Crossing Borders | Wednesday den 31. August 2016 kl. 17:00 | Århus Domkirke |
| Crossing Borders | Tuesday den 30. August 2016 kl. 19:30 | Sankt Mortens Kirke, Næstved |
| The Nordic Choir Expedition, Helsinki | Saturday den 27. August 2016 kl. 16:00 | Ritarihuone, Helsinki, Finland |
| The Nordic Choir Expedition, Oslo | Sunday den 21. August 2016 kl. 15:00 | Gamle Aker Kirke, Oslo |
| In C - Stavanger version | Saturday den 20. August 2016 kl. 20:00 | Zetlitz, Stavanger, Norge |
| Sunt Lacrimae Rerum, Stavanger | Friday den 19. August 2016 kl. 21:00 | Utstein Kloster, Stavanger, Norge |
| Komm, du süße Todesstunde, BWV 161, Stavanger | Wednesday den 17. August 2016 kl. 19:00 | Stavanger Domkirke, Norge |
| Phrygian Fragments | Thursday den 7. July 2016 kl. 20:30 | Fribourg (CH), Église du Collège Saint-Michel |
| Phrygian Fragments | Wednesday den 1. June 2016 kl. 20:00 | Kaiserdom zu Speyer |