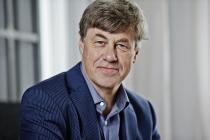 Paul Hillier
Paul Hillier is from Dorset in England and studied at the Guildhall School of Music and Drama in London. His career has embraced singing, conducting, composing, and writing about music. Earlier in his career he was founding director of the Hilliard Ensemble, and subsequently founded Theatre of Voices. He has taught in the USA at the University of California campuses at Santa Cruz and Davis, and from 1996-2003 was Director of the Early Music Institute at Indiana University.
He was Principal Conductor of the Estonian Philharmonic Chamber Choir (2001-2007) and has been Chief Conductor of Ars Nova Copenhagen since 2003. His recordings, over a hundred CDs including seven solo recitals, have earned worldwide acclaim and won numerous prizes. His books about Arvo Pärt and Steve Reich, together with numerous anthologies of choral music, are published by Oxford University Press. In 2006 he was awarded an OBE for services to choral music. In 2007 he received the Order of the White Star of Estonia, and was awarded a Grammy for Best Choral Recording.
In 2008 he became Chief Conductor of Chamber Choir Ireland and was also appointed artistic director of the newly formed Coro Casa da Música in Porto. During 2009 he was artist in residence at Yale University's Institute for Sacred Music. In 2010 he was awarded his second Grammy - for David Lang's The Little Match Girl Passion. In 2013 he was awarded the Order of Dannebrog by the Her Majesty The Queen of Denmark: the Danish knighthood.
Paul is represented worldwide by Konzertdirektion Hörtnagel, Berlin.